For Trade - Wanted

Updated 22 February 2015

For Trade

I prefer to trade because if I sell something, I end up spending Joe money on McDonalds, and McDonalds money on Joe or something like that. If I trade, I keep a finite amount of Joe stuff and I don't feel like I'm losing something. Of course, money talks, so if you don't have anything I want, we can trade some cash for some Joe stuff.

The pictures below are not all inclusive of my extra stuff, just the things I bothered to photograph. I've got odds and ends and bunches of basic figure uniform parts. Ask and I'll get back to you.

Attack at Vulture Falls parts (Joe not included). Nice orange jumpsuit. Yellow vest has broken zipper teeth but displays well enough open. Brown shoulder holster is missing the securing tab. No pistol. Brown backpack for life raft (not included raft) has some melt marks and a crack on the edge of the lid. Straps are intact. No compass in top. Tabs to hold oars are functional on both sides (oar not included)
Turbo Swamp Craft. Boat is in good condition with both working storage flaps. Propeller and one rudder also included. Missing a lot but a good base.

Escape car complete. Wheels don't like to stay on if you're playing with it. One handle is broken off on the controls and one small tab that holds the backpack part down to the frame when it is in car mode is broken off. Seat has good elastic and the hook on the end. Also have an extra seat that is missing the hook. Last item is a good copter/turbo swamp craft seat with good condition and all tabs.
(3) Jungle Survival /Long Range Recon shirts. One is light material two pocket. Other two are four pocket heavier material. Middle one has a dark brown stain on right sleeve as you can see in picure. with a little ironing, they'll lay down flat and nice.
(1) One Desert Explorer Shirt.
Nice Hurricane Spotter top and bottom.
(5) Undercover Agent trench coats.
(3) Hunt for the White Tiger Shirts. Two on the left are the lightweight variants and the two on the right are heavier material. (Bottom right is no longer available)
(2) Sky Dive to Danger / Photo Reconnaissance Jumpsuits. Left is heavier material with some spots. Right is cleaner but lighter material.
Dangerous Mission outfit in good condition.
Copter Rescue jumpsuit. Has some dark streaking visible in photo.
Atomic Man Race for Recovery jumpsuit. has some fading (see picture)
Nice Jungle Ordeal jumpsuit (Figure not included). This is the two pocket variant with heavier material.
(2) Demolition / Dangerous Removal bomb suits. Both have all straps and buckles (left one just has them fastened underneath.
NEW as of 24 August 2012
Blue Fantastic Free Fall parachute pack. Missing top flap, chest cross-piece, and pull cord. Other than missing parts, not bad shape.
Some sort of stretcher without the poles. I'm not sure if it is Joe or some other brand.
Capture Copter rudder piece. Looks like it is intact.
(2) Marine Communications ponchos. Left one is in better shape of the two. Right one is more deteriorated on the inside and wrinkled.
Set of rough Bulletman Boots. One boot has a small tear at the top edge, the other is pretty chewed up. Please see the pictures above. Might be useful if you cut them down.
Scramble Pilot flight suit. Zipper is rusty and side snaps are corroded. Two stains that appear to be rust on front. Right underarm seam has started to come loose. Back side has two more of the "rust" stains. Otherwise, the suit is a little dirty but evenly colored.
Secret Courier shirt. A bit wrinkled. Has two small holes on backside that look like they rubbed on something.

(2) Secret Rendezvous trousers. One pair is creased down front. Both have slightly uneven fading and some dirt.
NEW as of 10 September 2012

Emergency Rescue belt with all tools. I'm pretty sure I have a oxygen mask for it somewhere too.
NEW as of 21 September 2012

White Tiger Hunt cage without door. Otherwise not bad at all.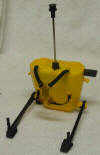 Turbo Copter missing rotor on top. Still turns when you push button. There is a repair on the upper left shoulder piece in the middle that is reinforced with thread. You can probably see it in the photo. Not a bad piece with the rotor.
Signal flasher appears to be only missing the screw that holds it closed. It still stays together but screw is missing. I didn't bother to see if it works.
PENDING --- Aerial Recon platform complete. Took me 15 years to get one complete and now I end up with two..go figure.
Thermal Scanner. Left picture you can see some dark areas where there were some pretty bad melt marks. Using my special technique, I cut away nasty meltedness, carefully remolded the cut away plastic into the cavity of the melt area and then precision sanded and polished the repaired area to the fine result that you can see. the other side is very nice and you can see the lens is pretty spiffy.

Rocket Pack, missing one side.

Vintage minesweeper pack. Seems in good condition with a small red spot on the back that you can see in photo.

Some water stuff. USN raft that holds air as you can see.
Turbo Swamp Craft noose. You can't tell by the photo, but it was broken and awesomely repaired by yours truly. I used a micro drill bit to drill into each of the broken parts of the "cord". I then superglued in place a piece of flexible, diameter-matched magnet wire and attached the two pieces together. I even rotated the plastic cord to ensure the pattern matched as best as possible.
Sea Wolf Camera
White scuba tanks with straps. Has one of the angled tabs broken off.
Yellow Fin
Large Black Fin

Matched pair of shorter black fins.

Detonator
Volcano Jumper Pack
Fire!

Volcano Jumper Faceshield in good condition with slight crease. Same pack as above.
Nice Aerial Recon jumpsuit
Copter Rescue jumpsuit.
Desert Explorer
Dangerous Mission
Scramble Pilot Jumpsuit?
Desert Survival with reddish smudge on top. Crisp pants. I did not try to clean.
Desert Survival in great shape with crisp pants.
Fight for Survival set.
Undercover Agent
Undercover Agent
Jungle Ordeal
Sample Analyzer. Missing legs and sample bottles. Flip down tray is missing and the bottom part of tab is broken.
Classic Collection "skin head" figure from late '90s with some vintage KO orange shorts because kids could come to this site!
NEW as of 27 September 2012
Arctic Expedition crate with orange lid from 1969 Fight for Survival Set.

1970 black lid Arctic Expedition Crate. Has some letter wear on "arctic" and some tape residue marking over "arctic" (I'd guess they are related symptoms)
Adventure Raft Backpack with compass and good straps. Comes with FREE private rank on the back. Some wear, see pictures.
White Scuba Tank. Could surely stand some cleaning but looks like all the tabs are there.
Adventure Team Headquarters console in great condition.
NEW 7 OCT 12

High Voltage Escape "Jumpsuit" with frayed right leg bottom. Can be repaired pretty easily, I think. A few other single strands broken on it, but nothing noticeable unless you look close. PENDING -- Also belt without plastic slider and female side of hook. Cutters are repaired (plastic rivet was separated and I melted back into place using a low-temperature tool.
Vintage Action Man with whatever they called their Kung Fu Grip. He is overall good condition except his head has been glued on and some of that glue has run down his back. His eyes still move back and forth and he has great hair.
White Tiger Hunt Fire. Has a very small crack that you may be able to see in the photos. The red ink pen is pointing right at it in all three photos.
Green Radio. Has one hinge repaired with a bit of black wire and glue. You can see it if you look close at the pictures.
My full list is going to come as soon as I can see what I actually have. I'm in the inventory stage right now. Basically, I only collect AT era items or West Point cadets. If you have something common, I most likely have it, but be sure to ask. Some common items you can't have enough of, like good condition basic uniforms, body parts, heads, rifles, shoulder holsters, etc. Let me know and we'll talk turkey.
I do know for sure that I need the following:
Miscellaneous Stuff I Need
Left Bicep for black muscle body figure
West Point red sash: I have one poor cadet that is out of uniform due to this missing sash.
Avenger Pursuit Craft: I need one engine and the cross piece for the tail rudders.
Troubleshooter: Yeah, I know, get in line...anyway, I need the little antennas.
Secret Mountain Outpost: I need the radar dish and adapter.
Astro hat: Plastic one.
Chests: I have a few, but lots of different ones are out there....let me know.
Big Trapper parts... Need cage and tail gate.
MSV: Need new tailgate...mine is broken (bottom piece). Need satellite and ladder (bottom piece).
Kung Fu Grip Air Adventurer Box
Kung Fu Grip Commander Box
Kung Fu Grip Black Commander Box
Kung Fu Grip Man of Action Box
Stuff I Need for Uniform Sets (if all is listed, I'd like to nail down the outfit first)
Secret Mission to Spy Island: Need 1 TNT stick
Hidden Missile Discovery: Need all of it basically
Eight Ropes of Danger: Need Octopus, two coins, and treasure map.
Fantastic Freefall: Need Yellow vest
Flying Space Adventure: Need clear bubble helmet, rocket pack, space camera with frame, pick-up arm, control handle.
Fight for Survival: Need the one orange chests with black "arctic" lids, need dogsled and 2-dog harness.
Shark's Surprise: Scuba top, black swim fins, black face mask, spear gun, blue sea sled without motor, gray shark, treasure chest with four two coins.
Missile Recovery: Need a yellow scuba top (mine browned out :( )
Radiation Detection: Need belt and isotope
High Voltage Escape: Wrist device and warning sign.
Hurricane spotter: Gray binos, yellow map case and map, yellow belt.
Karate: Need trousers, red belt, brown belt, 1/2 brick, and brick stand.
Infiltration: Need a map.
Undercover Agent: Need brown belt and walkie talkie
Long Range Recon: Need black revolver, and walkie talkie
Buried Bounty: Need silver detector, Yellow box with swivel lid, and 2 piece green e-tool
Diver's distress: Need red diving mask, unpainted knife, and squid
Raging river dam up: Need yellow chainsaw, yellow handle shovel, black flashlight
Search for the Abominable Snowman: White (thin) hooded snowsuit, white plastic belt, Right Tall White Waffle Boot, Green goggles (rubber strap), mittens, One Ski (no bindings), ski poles (blunt tip), white unpainted sled, cargo net, black/gold rifle, black binos (rubber strap), Orange supply chest (no markings), white elastic snow shoes, yellow rope, snowman.
Mystery of Boiling Lagoon: Tan Pontoon Boat with no motor, diving suit, gold diving helmet with no GI Joe logo, 2 lead weight belt, 2 lead shoe weights, red buoy with yellow rope, oxygen meter and 2 hoses, gray tongs, radioactive satellite.
Thrust into Danger: I need a radio.
Green Danger: Need Chest.
Danger Ray Detection: Gray Shirt, Dark Blue Pants, magnetic flaw detector, solar communicator
Night Surveillance: Thin black hooded parka, elastic waist black trousers, silver map case and map, infrared scanner, sten w/clip, Need one leg for infrared scanner.
Shocking Escape: Thin gray jumpsuit, gray gloves, red waist pack, yellow escape slide, Pink "high voltage" sign, 2 small ropes
Jettison to Safety: Black Shirt, Tank Pants, Rocket w/silver rockets, red thermal scanner.
Mine Shaft Breakout: Tan shirt, dark blue pants, brown chest winch, dark blue face mask, sonic rock blaster, cargo net
Revenge of the Spy Shark: I need yellow raft with no imprint, headphones for sonic detector, unpainted knife, red bouy marker, spear gun, and black shark.
Black Widow Rendezvous: Copter pack (black), unpainted knife, walkie talkie, black pistol
Peril of Raging Inferno: Need gold piece for propellant wand.
Attack at Vulture Falls: Need light brown cargo chest with dark brown lid, need grappling hook.
Jaws of Death: Gray Scuba Suit, yellow oxygen tanks, black open toe fins, black face mask, yellow sea sled, giant clam, unpainted knife, scabbard, unpainted spear gun.
Sky Dive to Danger: Need tall brown boots (repro are fine), spider and web.
Race for Recovery: Dark Brown or black belt, rope ladder with grapple, Walkie talkie, pink rock, gray container lid
Fangs of the Cobra: Need short brown boots (repro fine)
Special Assignment: Orange belt, Black M16 w/plastic sling, Head phones and back piece to the scanner.
Secret Mission: Need thin plastic hat, black raft without oar loops, black oar, jade-green radio with clasp front.
Dive to Danger: Orange Scuba Suit, Orange Scuba hood, white tanks with hollow regulator, black open-top fins, black face mask, unpainted spear gun, red buoy with rope, unpainted knife and scabbard, yellow sea sled w/o motor, gray shark.
Challenge of Savage River: Unmarked lid to orange cargo box, orange inflatable raft with black outboard motor, map, machete and sheathe, green plastic compass.
Command Para-drop: Cargo Chest, Yellow Parachute, silver unpainted chainsaw, animal trap, soft plastic canteen, Mess Kit (complete), black luger w/scope and stalk, green 2-piece entrenching tool, flare gun, walkie talkie, red first aid kit, sivler unpainted machete, black rubber strap binos.
Trouble at Vulture Pass: Escape Car, solar communicator, blue jumpsuit, sort black boots, black wire roll, silver map case, map, compass, black rubber strap binos, vulture.
Trapped in Coils of Doom: BROWN ATV!!!11!!!, Flat Bottom boat (no motor), green jacket (no pockets), tan pants, short brown boots, tan web belt, giant rubber snake, capture snare.
Magnum Power: Brown camo shirt (no hood), brown camo pants, brown bulletproof vest, magnum rifle with 3 scopes, silver map case, black unpainted walkie talkie, black binos.

When I get a chance this will have a list of my extra stuff I'm willing to sell or trade as well as eventually a list of the items I really need/want.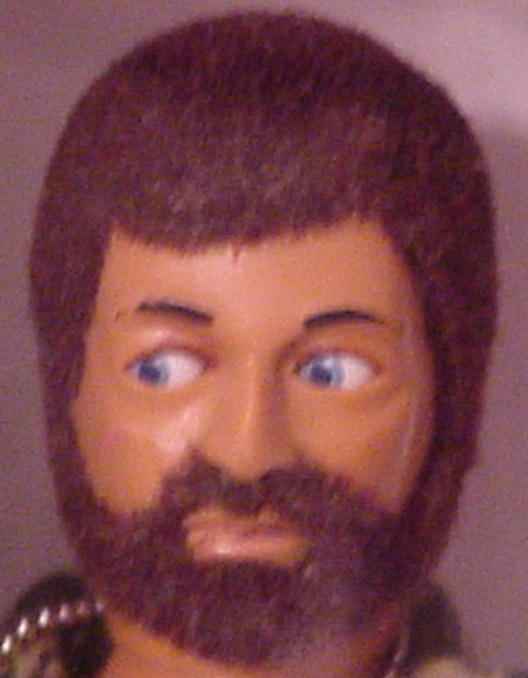 Go Back Home