Mini AT Joes
If you're familiar with my site you may have already noticed that I have a Monster AT Commander that stands about 23" tall that was built over a decade ago by the very talented Craig Blankenship. Well, he is cool for being big, but a few years back the folks over at Castaway Toys, very active in the mego figure community over at Megomuseum.com, flocked some mego heads and came up with their own 8" version of the Adventure Team. There were variations on the theme with some being direct mini-knock offs, others being part of the Castaway Adventure Team (complete with CAT) logo, and some new fresh adventures which you can still catch boxed on Ebay sometimes for a lot of dollars.
I thought to myself, "self, those would be cool to have some of", and started looking for some to find out they don't exist at any reasonable price. I then thought to myself, "self, you're pretty crafty and a great problem-solver (and people really like you), so why don't you make your own." And thus was born my Mini-AT Joes project.
I got a bit more inspiration and technical assistance from Jason at the Wearesmall website. He built three "MeJos" which he came up with by mashing Mego into Joe.
Since I wasn't sure if his flocker, GI Joe Medic was still in business, I went with a guy I know through the community, Ray from FlockConcepts, that has a great reputation as a flocker and off I went.
Well, I think I've talked enough, so lets get to the new Mini AT Joes!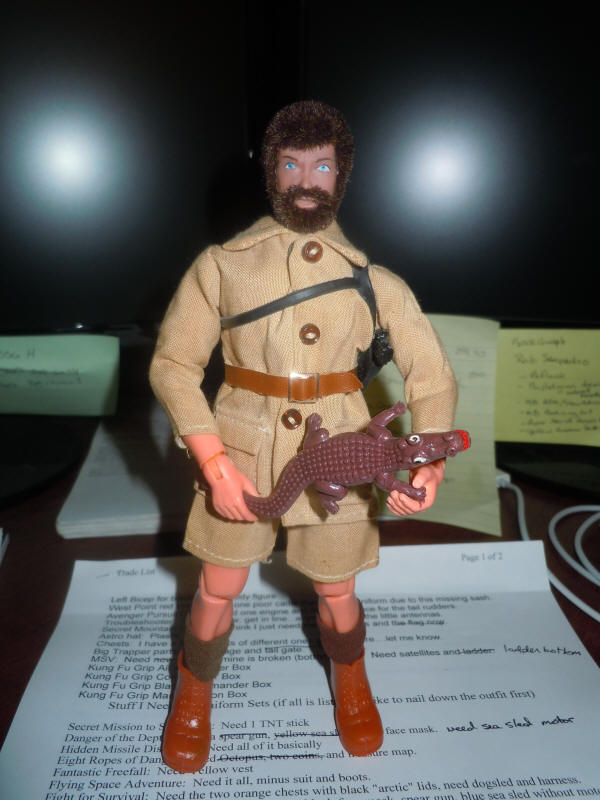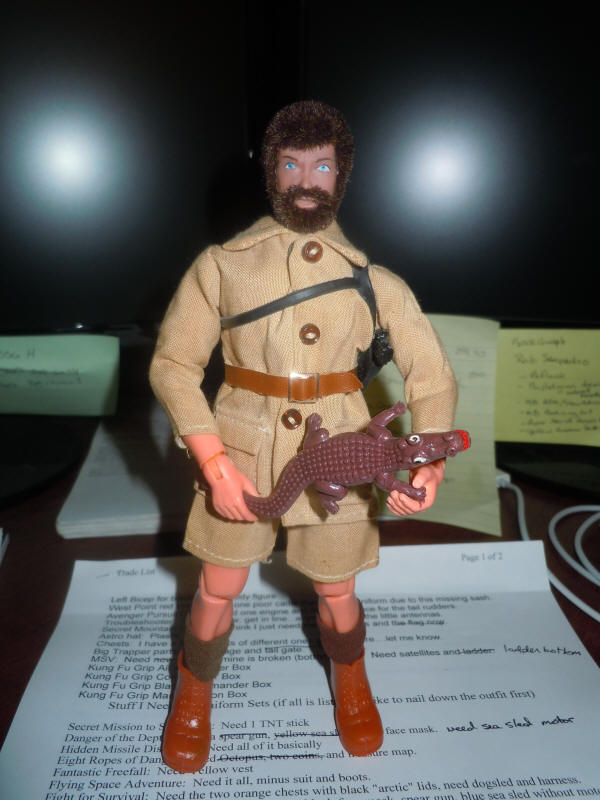 I finally got around to roughing out an AT Commander uniform for this guy. It was an exercise in repeated small disasters. First, the sewing machine was acting up and took an hour to get working (resulting in the sloppy stitches). Then, the right color thread I had was junk and would break when sewing it (I checked and it wasn't the machine anymore) and the only thing I had was dark green which left lots of visible seams. Then, I found out that the mego-scale pattern I found on the Internet was for apparently midget mego figures and required substantial modification. You can see that the collar ended up being way too narrow to wrap around far enough. Seeing that it is the first 1:8 scale uniform I ever sewed and the first of any scale that I've added a collar to, it isn't terrible. I might redo it sometime in the future, but for now, he's on the back burner as "completish" The right picture is him in his temporary uniform, which I may use for another figure (if I build more) or I might just put it on Ebay.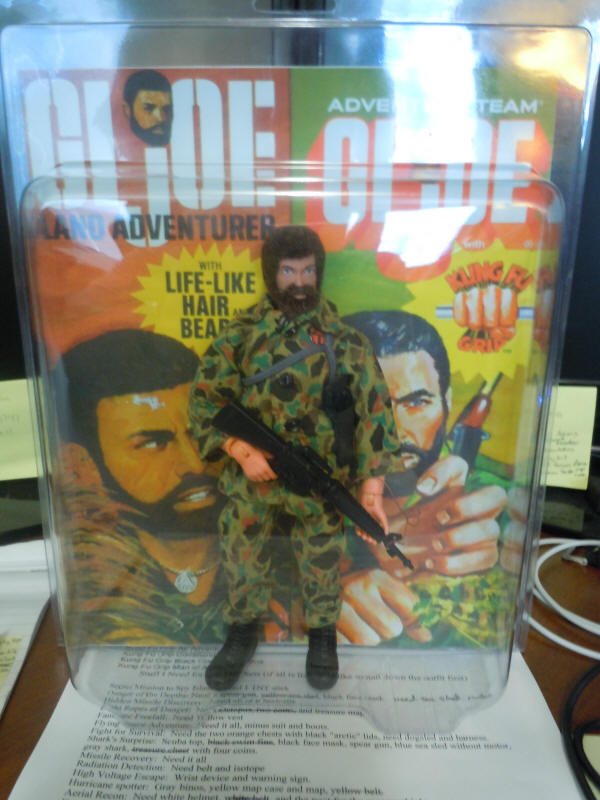 The Land Adventurer is ready for action wearing vintage Action Jackson Australian Marine camo with some "cut down" AJ boots. I built the "box art" from high-resolution photos of vintage box art in my collection. At some point I will make him an actual box but I couldn't wait to get these guys together. Oh, he also has a homemade shoulder holster with a mego style pistol in it.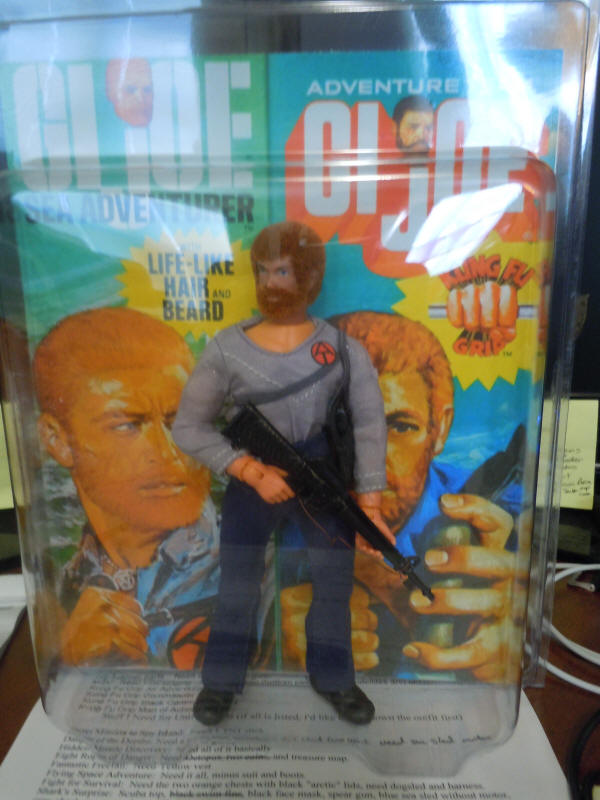 The Sea Adventurer is sporting a modified AJ Navy uniform. I cut his boots down, crafted him a shoulder holster for his pistol, and did some mods to his uniform. His shirt used to be navy like the pants and with the big navy flap in the back and scarf tags. A little snip, a little dye remover, and voila. Passable until I bother to chop some seams into that thing and add a collar.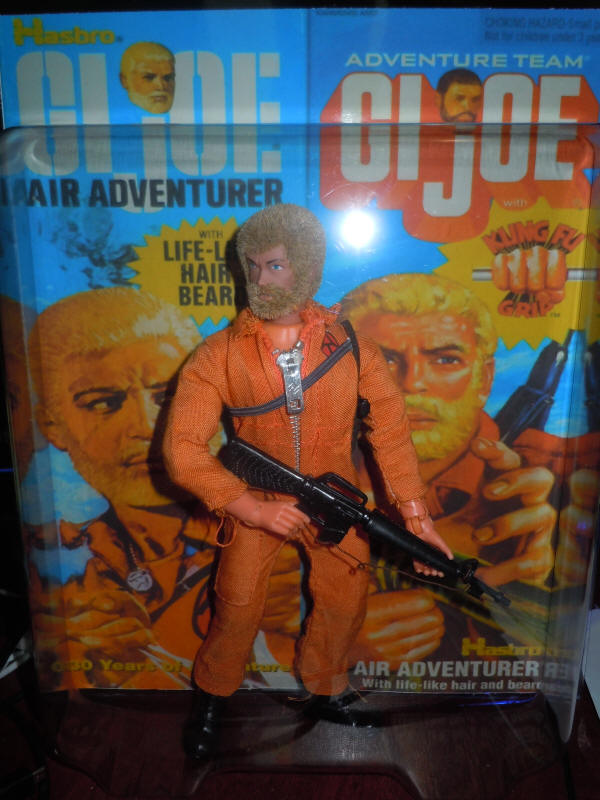 The Air Adventurer's ensemble started as the AJ Air Force uniform and with a bit of dye remover and some "tangerine" colored dye, voila. I also cut down his boots to short and made him a holster for his piece.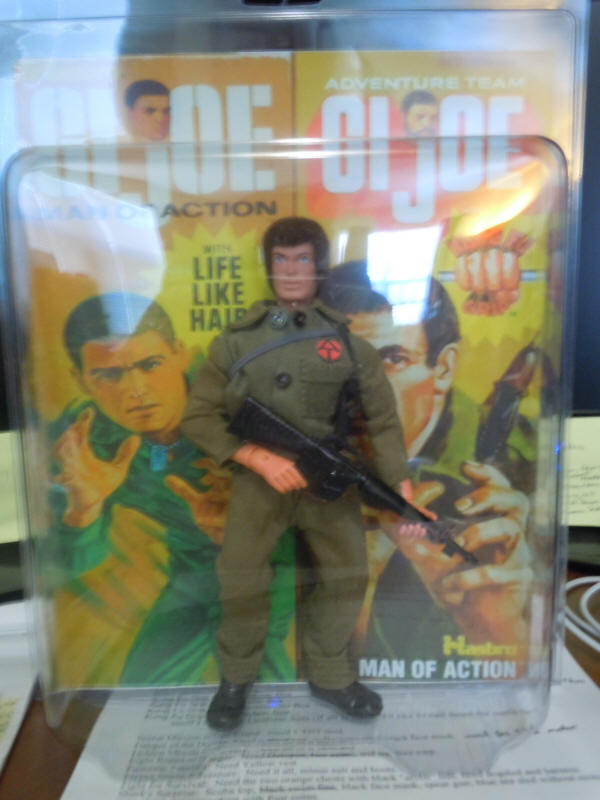 The Man of Action rounds out the initial crew with vintage Action Jackson Army fatigues, custom shoulder holster, and cut down boots. All in all, I've got my Mini AT Team ready for action in the smallest of locations.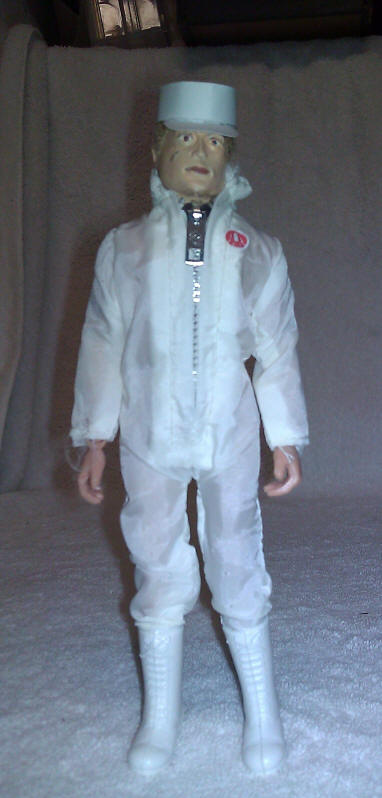 AT Astronaut was not built by me, but I bought it second hand. I dressed him out in an Action Jackson snow suit (modified to have a collar), some tall white AJ boots, custom made astronaut decal, and a scratch built hat made of card stock.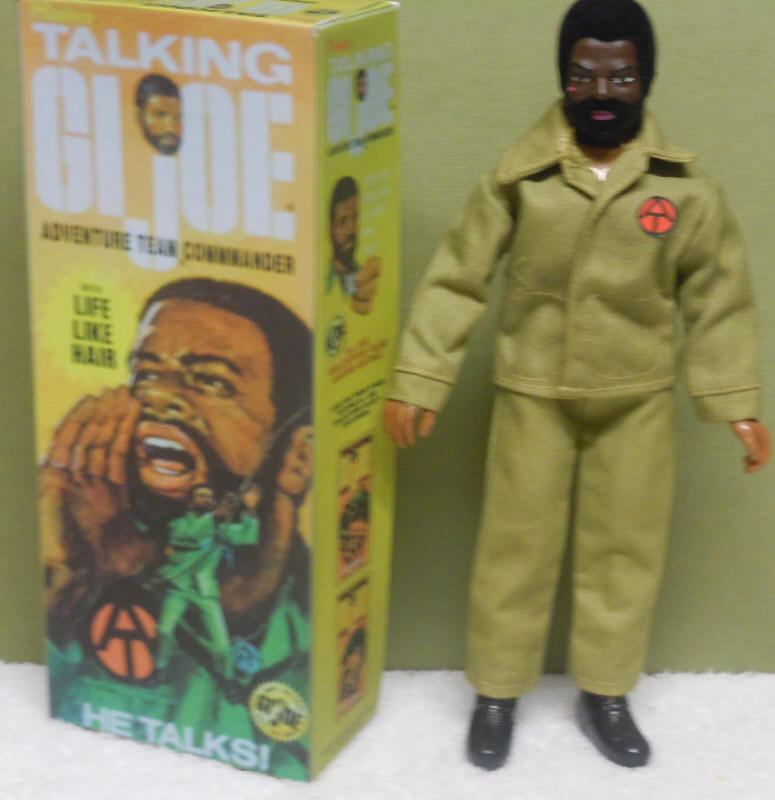 AT Black Commander with custom box made by me. Outfit was light tan from Classic TV Toys store online and I dyed it. Head is a custom by TrueDave at the Megomuseum.com that was flocked by Ray at Flocked Concepts.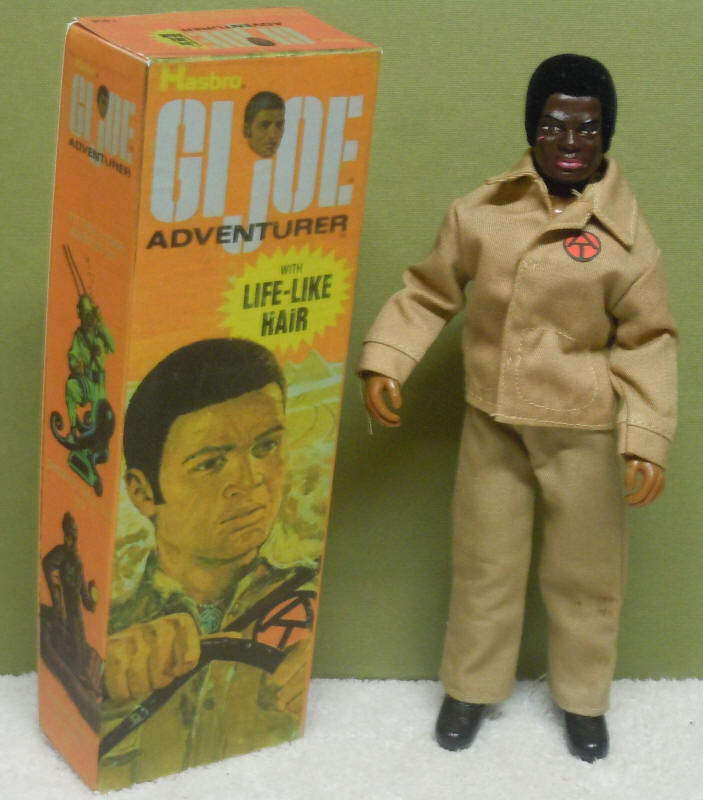 AT Black Adventurer with custom box made by me. Outfit was light tan from Classic TV Toys store online and I dyed it. Head is a custom by TrueDave at the Megomuseum.com that was flocked by Ray at Flocked Concepts.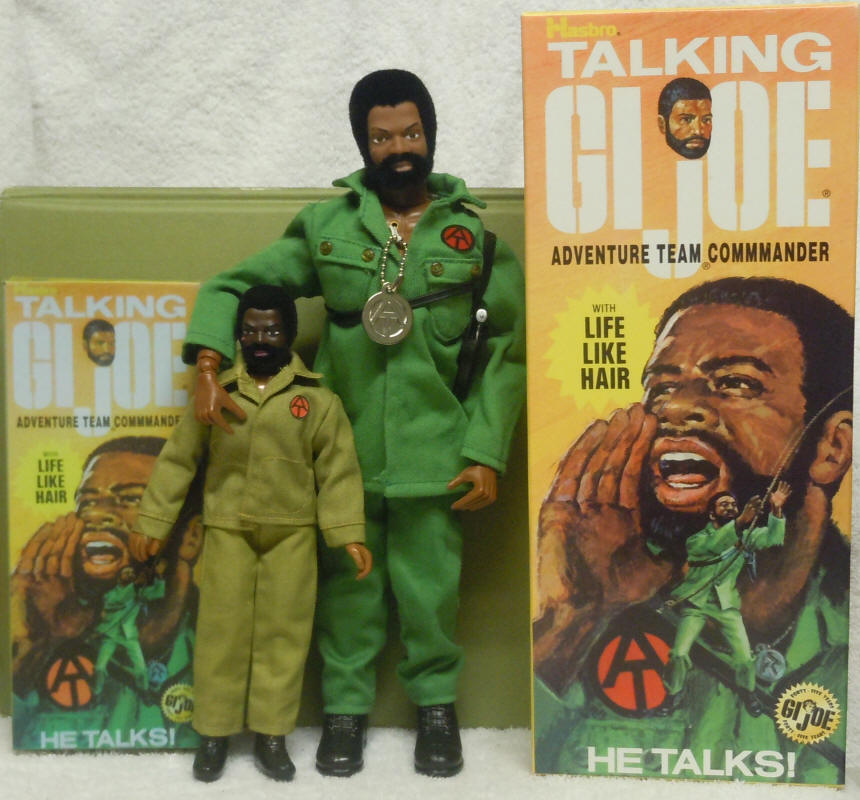 AT Black Commander next to a normal sized Black Commander. This clearly shows both the difference in scale and the excellent head sculpt/flocking done on this little guy.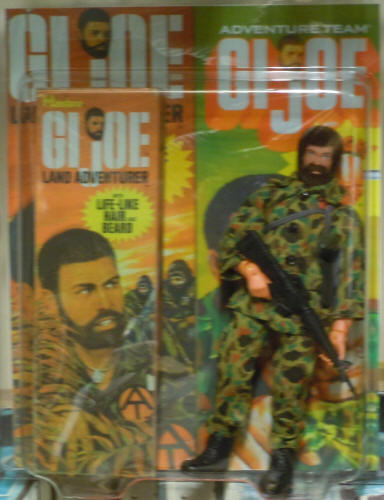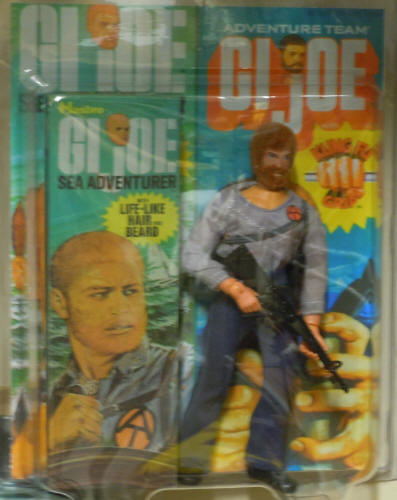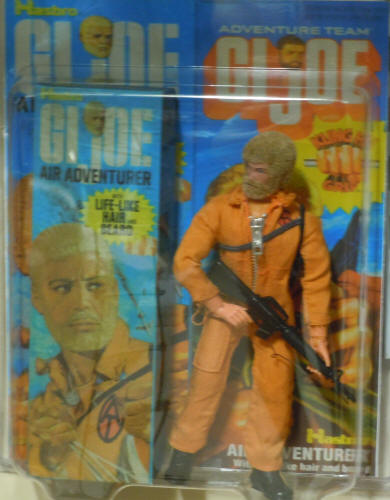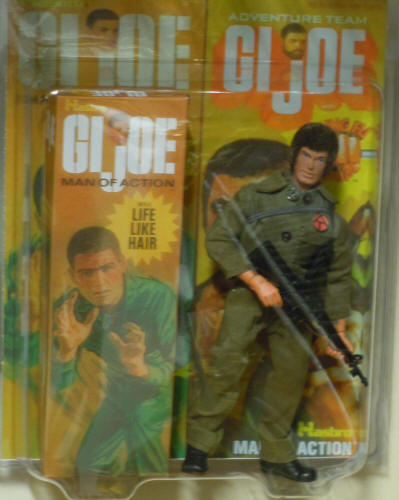 I made custom boxes for each of my guys to fill out their plastic containers. Box making is an act of devotion and masochism. It isn't a fun thing to do, but it is kinda cool when it is over.